Press Release - 05/29/2012 - Director Hearnes attends training
Director Robert Hearnes recently attended the 2012 Gateway Law Enforcement Executive Development Seminar (GLEEDS) offered by the Federal Bureau of Investigation (FBI) St. Louis Division.  GLEEDS is designed for law enforcement executive officers.  Each year, the FBI selects no more than 40 applicants from eastern Missouri. The four-day seminar was held at the Jefferson Community College Campus in Arnold.
Executives are provided with instruction and facilitation in the areas of leadership, strategic planning, legal issues, labor relations, media relations, social issues, and police programs. The environment of the seminar is conducive to independent thought and study. Participants have the opportunity to exchange plans, problems, and solutions with their peers; to develop new thoughts and ideas; and to share successes of their own communities.  Director Hearnes is pictured receiving his certificate from Special Agent in Charge Dean Bryant, of the FBI St Louis Division.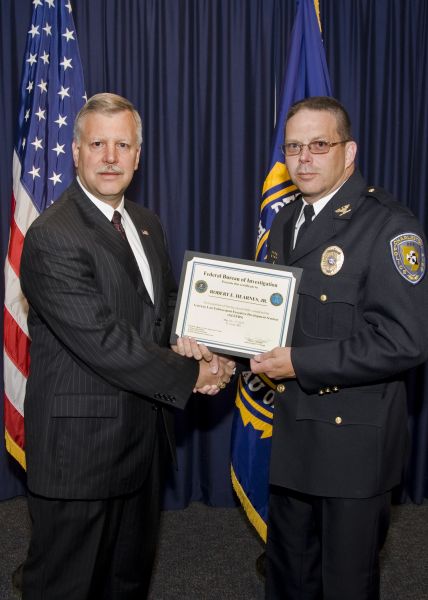 Director Hearnes receives certificate from Special Agent in Charge Dean Bryant - May 17th, 2012