Press Release - Regional Training Exercise - 10/25/2013
News Media,
     On the morning of October 25th, the Mississippi County Emergency Management Office, the Charleston Department of Public Safety and the Mississippi County Health Department participated in a regional training exercise.  The scenario centered around a flu pandemic effecting the 12 county area that makes up Region E.  The scenario placed the participants into week 5 and 6 on the pandemic, where above normal rates of death and sickness began to break down the normal operation of society.
     During the training, the local participants activated the County Emergency Operations Center (EOC) at Charleston City Hall. At the EOC, the participants were able to use some of the newer tools available such as the MO Statewide Interoperability Network (MOSWIN) and WebEOC to stay in constant contact with State Emergency Management personnel.  The training gave the participants a working idea of how the system would operate in an actual emergency. 
     Director Robert Hearnes was impressed with how WebEOC worked. He commented that it kept local officials in constant contact with state officials, and gave instant feedback on the progress of resource requests made. The Emergency Management Director can also use the software to track requests that can be assigned to and handled by local agencies.
Shown in the attached photo are the participants in the EOC:
Rachelle Johnson – Director of the Mississippi County Health Department
Robert Hearnes – Director of the Charleston Department of Public Safety
Danny Harris – Director of the Mississippi County Emergency Management Office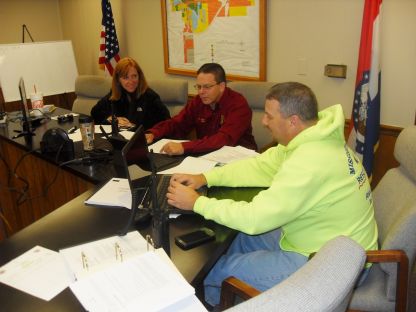 Authority:  Robert Hearnes